x
Maintenance Knowledge at Your Fingertips
Print or Download for Offline Access!
CMMS: A Comprehensive Guide
The Key to Smarter Maintenance Management
Organizations, today, across various industries rely heavily on efficient maintenance management to ensure the smooth operation of their assets and facilities. Computerized Maintenance Management Systems (CMMS) have emerged as a vital tool to streamline and optimize maintenance processes, enabling businesses to effectively track, manage, and maintain their assets.
CMMS software is a digital solution designed to assist maintenance teams in organizing, planning, and executing maintenance activities. It serves as a centralized hub for managing assets, work orders, preventive maintenance tasks, inventory, and reporting, among other key functions. The primary purpose of CMMS is to enhance operational efficiency, extend asset lifespan, minimize downtime, and reduce maintenance costs.
By leveraging CMMS software, organizations can transition from outdated, paper or spreadsheet-based tracking methods to a digitized platform that offers real-time visibility and control over their maintenance operations. This allows maintenance teams to streamline workflows, optimize resource allocation, and proactively address maintenance needs.
6 CORE FEATURES AND BENEFITS OF A CMMS
A CMMS offers a comprehensive suite of features and functionality that empower organizations to effectively manage maintenance operations and optimize asset performance.The following are six key features and benefits:
1. Asset Management
The asset management module is a fundamental component of a CMMS that focuses on efficiently tracking, organizing, and managing assets throughout their lifecycle. This module plays a crucial role in optimizing maintenance operations and ensuring the effective utilization of assets. Implementing robust asset management practices through a CMMS, helps organizations minimize downtime, improve asset performance, and reduce maintenance costs.
Below are the key aspects of the asset management module within CMMS:
1.1 Centralized Asset Repository
The Asset Management module in a CMMS provides a centralized repository to store and manage asset-related information.
It serves as a comprehensive database that captures key details about each asset, including asset name, description, specifications, location, maintenance history, warranty information, and other relevant attributes.
This enables easy access to asset information for maintenance technicians, managers, and stakeholders. It eliminates the need for manual paperwork or scattered records by consolidating all asset data into a single, organized database.
This ensures data accuracy, reduces duplication of effort, provides fast access to important information and simplifies asset management processes. By having a centralized asset repository, organizations can efficiently search and retrieve asset information, track asset history, and make informed decisions regarding maintenance strategies, asset retirement, or replacement.
1.2 Asset Tracking and Identification
The asset management module in a CMMS facilitates the tracking and organization of assets. Through a CMMS, assets can be classified into categories, such as equipment type, criticality and location, enabling easy access and retrieval of asset-related data.
A CMMS enables asset tracking and identification through unique identifiers, such as asset tags, barcodes, or RFID (Radio Frequency Identification) tags. These identifiers are affixed to assets, allowing for quick and accurate identification, tracking, and retrieval of asset information within the CMMS.
Asset tracking makes it possible for organizations to monitor asset location, usage, and maintenance history. Maintenance technicians can easily access asset information, maintenance schedules, and associated work orders while performing maintenance tasks. This streamlines the workflow, reduces human error, and enhances overall efficiency in maintenance operations.
With proper asset identification and tracking, organizations can make decisions about asset lifecycle management and also mitigate the risk of asset loss, theft, or unauthorized use. CMMS software provides visibility into asset movement, tracks asset status changes, and facilitates better control and accountability over assets. It also provides reporting and analytics to evaluate asset performance metrics, track maintenance costs, and identify opportunities for process improvement or cost optimization.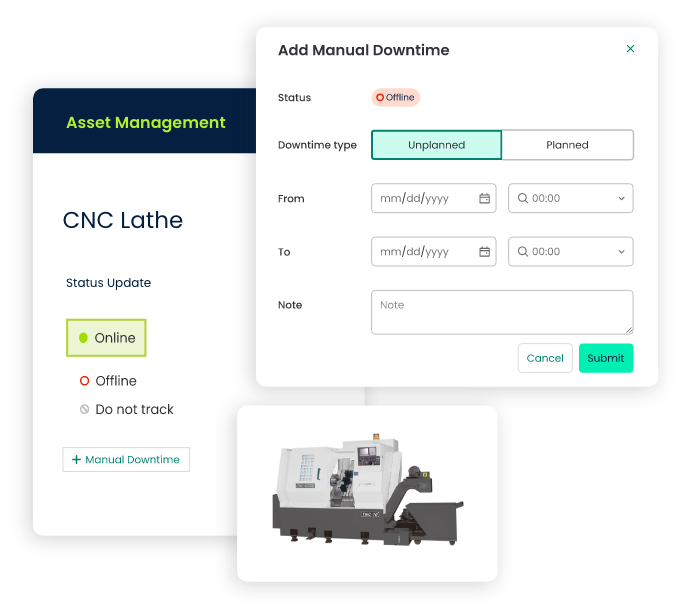 2. Work Order Management
The Work Order Management module facilitates the creation, assignment, and tracking of maintenance tasks within an organization. Work Order Management provides a structured and organized approach to handling maintenance tasks. It enables organizations to effectively plan, prioritize, and execute maintenance activities.
A CMMS ensures that maintenance tasks are appropriately assigned, tracked, and completed within specified timeframes. The work order management functionality facilitates seamless communication and collaboration among maintenance technicians, supervisors, vendors and other stakeholders, resulting in improved coordination, reduced response times, and increased productivity.
Below are the key aspects of the Work Order Management module found in CMMS software:
2.1 Work Order Creation and Assignment
CMMS software allows users to create work orders, assign tasks to maintenance personnel or 3rd party vendors, and set priorities and deadlines. It allows for the creation of work orders manually or automatically based on triggers such as equipment failure, preventive maintenance schedules, or condition-based monitoring. This flexibility ensures that maintenance activities are promptly initiated and properly documented. CMMS software also enables employees to submit maintenance requests that can be reviewed and dispatched from administrators.
A work order serves as a formal request or directive to perform maintenance or repair tasks on specific assets or equipment. Users can initiate work orders through CMMS by providing detailed information such as asset identification, description of the problem or required maintenance, priority level, and any other relevant information. With mobile capabilities, users can attach images of the asset or location that needs attention, adding more value.
Once a work order is created, the Work Order Management module facilitates the assignment of tasks to maintenance personnel and the scheduling of maintenance activities. A CMMS provides features that enable users to assign tasks based on factors such as skill set, availability, workload, and priority. This ensures that the right people with the necessary expertise are assigned to perform specific maintenance tasks.
CMMS software ensures that maintenance tasks are properly documented and readily accessible to the assigned technicians. This promotes transparency, accountability, and effective coordination among team members.
2.2 Task Scheduling and Calendar Interface
A CMMS also offers scheduling capabilities, allowing users to allocate tasks to specific dates and times. Most software providers have a calendar view that shows all work orders and upcoming planned maintenance. Work orders and maintenance tasks can easily be filtered by category, type, location, due date, assigned tech or vendor and priority.
Some CMMS software integrate with calendar systems, such as Outlook or Google Calendar. This allows users to view their assigned tasks, deadlines, and priorities within their existing office calendar software. This integration ensures that maintenance activities are aligned with other operational commitments, minimizing conflicts and maximizing productivity. The calendar integration enables technicians to receive task notifications, reminders, and updates directly on their mobile devices or email, ensuring that they stay informed and can plan their work effectively. This feature enhances communication and coordination among team members and streamlines the execution of maintenance tasks.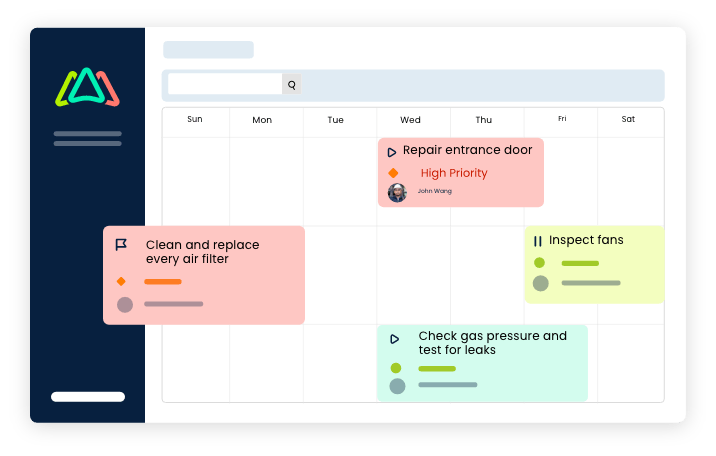 2.3 Progress Tracking and Notifications
Maintenance personnel can update the status of assigned tasks in real-time, allowing supervisors and stakeholders to have visibility into ongoing maintenance activities. CMMS software allows for the documentation of task details, including labor hours spent, materials and spare parts used, and any notes or observations made during the maintenance process. This information is crucial for accurate record-keeping, analysis of maintenance costs, and tracking asset performance over time. By tracking work order progress, CMMS systems enable organizations to identify potential bottlenecks, address delays or issues promptly, and make informed decisions regarding resource allocation and task prioritization. They also provide historical data that can be used for performance evaluation, process improvement, and compliance reporting.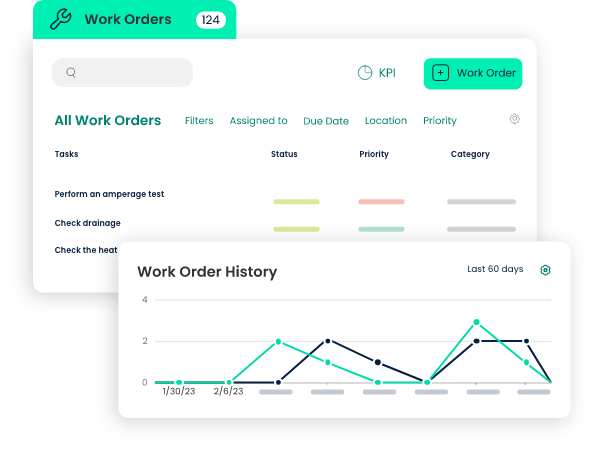 3. Preventive Maintenance
Preventive Maintenance is one of the key features that drives organizations to seek out CMMS software. It focuses on proactively managing maintenance activities to prevent equipment failures, minimize downtime, and extend asset lifespan. This module plays a crucial role in ensuring the reliability, efficiency, and longevity of assets.
The Preventive Maintenance module in CMMS software enables organizations to create and execute preventive maintenance plans based on asset usage, manufacturer guidelines, industry standards and regulatory requirements.
The following are key features of the preventive maintenance module within a CMMS:
3.1 Maintenance Scheduling
A CMMS enables organizations to schedule maintenance tasks based on predefined intervals, meter readings, or condition-based triggers. This proactive approach ensures that assets are regularly inspected, serviced, and maintained to prevent potential failures or performance degradation. Most modern CMMS software provides a user-friendly interface that allows users to create maintenance schedules and set the frequency of tasks.
By specifying the intervals or triggers, organizations can customize the preventive maintenance plans to suit their specific asset requirements and operational needs. The scheduling feature in a CMMS helps maintenance teams efficiently plan and allocate resources, ensuring that tasks are performed at the optimal time without disrupting regular operations. By adhering to a preventive maintenance schedule, organizations can significantly reduce unplanned downtime, improve asset reliability, and extend the lifespan of their equipment.
Maintenance scheduling in a CMMS enables efficient resource planning, ensuring that technicians, tools, and materials are available when needed. It also allows organizations to minimize disruptions to operations by scheduling maintenance during planned downtime or low-demand periods.
3.2 Task Templates and Checklists
CMMS offers the capability to create task templates and checklists for consistent execution of maintenance activities. These templates capture standard procedures, guidelines, and best practices associated with specific maintenance tasks. A CMMS allows users to create task templates that include detailed instructions, safety protocols, required materials or tools, and recommended procedures. These templates can be easily accessed and applied to relevant assets or equipment, ensuring consistency and accuracy in maintenance execution.
Preventive maintenance checklists provide step-by-step guidelines for maintenance personnel to follow during inspections or servicing. CMMS software enables the creation and customization of checklists to suit specific asset types and maintenance requirements. By completing checklists, maintenance personnel ensure that all necessary tasks and inspections are performed systematically, minimizing the risk of oversight or omission.
3.3 Maintenance Reminders and Notifications
A CMMS sends automated reminders and notifications to ensure that preventive maintenance tasks are executed promptly and efficiently. Maintenance personnel receive notifications about upcoming preventive maintenance activities, including due dates, task assignments, and any additional instructions. These reminders and notifications can be sent via email, SMS, or within the CMMS platform itself. By leveraging these features, organizations ensure that maintenance teams stay informed, adhere to schedules, and carry out preventive maintenance activities on time. Some CMMS applications escalate work, allowing supervisors or managers to be notified if preventive maintenance tasks are not completed within the specified timeframe. This ensures accountability and prompt action to address any delays or issues that may arise.
4. Inventory Management
The Inventory Management module in CMMS software provides organizations with the capability to centralize and streamline their inventory control processes. By maintaining accurate inventory records, organizations can identify the availability of spare parts and supplies, monitor stock levels, and make informed decisions regarding inventory replenishment or stock outages. This proactive approach helps prevent delays in maintenance activities, reduces the risk of rush orders, and minimizes costly downtime due to unavailable parts.
4.1 Spare Parts Inventory Tracking
A CMMS allows users to record and manage spare parts information, including part numbers, descriptions, quantities on hand, minimum and maximum quantities, lead times, storage locations, and supplier details. With a CMMS, maintenance personnel can easily identify whether the required spare parts are available or need to be ordered. This eliminates the need for manual searching and ensures timely availability of parts for maintenance tasks. A CMMS provides real-time visibility into inventory levels, enabling effective planning and efficient allocation of spare parts to maintenance activities.
4.2 Reorder Management
Some CMMS software assist organizations in managing the reorder process for inventory items. The Inventory Management module can generate reorder alerts or notifications based on predefined thresholds or minimum stock levels. These alerts indicate when it is time to replenish inventory to maintain sufficient stock levels.
By automating the ordering process, a CMMS helps eliminate the need for manual monitoring and reduces the risk of stockouts. Reorder management ensures that the necessary spare parts and supplies are readily available when required for maintenance tasks, minimizing delays and ensuring uninterrupted operations. Many CMMS applications integrate with ERP systems or come with purchase order functionality allowing for direct communication with vendors and suppliers. This enables seamless communication with suppliers for placing orders, tracking deliveries, and managing vendor relationships.
4.3 Stock Usage and Consumption Tracking
A CMMS captures data on the usage of spare parts and supplies during maintenance activities, including quantities used, dates of usage, and associated work orders. It enables organizations to track stock usage and consumption for effective cost management. By tracking stock usage and consumption, organizations can analyze maintenance trends, identify high-demand items, and optimize inventory levels accordingly.
This data-driven approach helps organizations reduce carrying costs, avoid overstocking or understocking, and make informed decisions regarding inventory management and procurement.
A CMMS facilitates the generation of reports and analytics related to inventory usage, stock levels, and consumption patterns. These insights enable organizations to identify opportunities for process improvement, cost reduction, and better inventory control.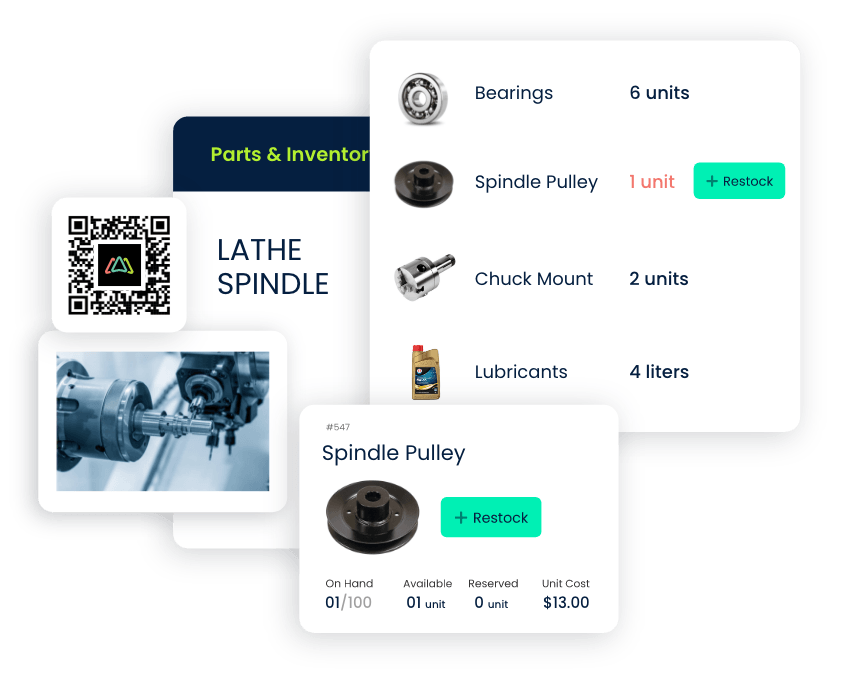 5. Reporting and Analytics
The Reporting and Analytics module in a CMMS provides a centralized platform to capture and analyze valuable data related to maintenance activities, costs, asset performance, and other key metrics. This module enables organizations to measure the effectiveness of their maintenance strategies, track performance against key performance indicators (KPIs), and drive continuous improvement initiatives.
Below are some key features of the Reporting and Analytics module in a CMMS:
5.1 Customizable Reports and Dashboards
Reports help organizations gain insights into maintenance activities, including work order completion rates, asset downtime, preventive maintenance compliance, and more. These reports help stakeholders assess the overall performance of their maintenance operations, identify patterns or issues, and take proactive measures for improvement.
A CMMS also provides customizable dashboards that offer a visual representation of key maintenance metrics and performance indicators such as mean time between failures (MTBF) or overall equipment effectiveness (OEE). Dashboards allow users to monitor real-time data, track KPIs, and quickly assess the health of maintenance operations at a glance. The ability to customize dashboards empowers organizations to focus on the most critical metrics and tailor visualizations to meet their specific reporting requirements.
5.2 Data Analytics and Insights
CMMS software enables advanced data analytics to unlock valuable insights from maintenance-related data. It provides tools and functionalities for data exploration, data visualization, and trend analysis. By analyzing maintenance data, organizations can identify patterns, correlations, and anomalies that may impact maintenance performance. This enables maintenance and asset managers to make informed decisions regarding maintenance strategies, resource allocation, asset lifecycle management, and predictive maintenance planning.
A CMMS facilitates data-driven decision-making by providing tools for data filtering, segmentation, and trend analysis. Organizations can leverage these capabilities to uncover hidden patterns, predict maintenance needs, and optimize maintenance scheduling for improved efficiency and managing costs.
5.3 Compliance and Audit Reporting
CMMS software provides the capability to generate compliance reports that document maintenance activities, asset history, and adherence to safety and regulatory requirements. These reports can be customized to meet specific compliance needs, allowing organizations to demonstrate their adherence to maintenance protocols, industry regulations, and quality standards. This not only helps organizations meet compliance obligations but also provides a comprehensive audit trail for tracking maintenance activities, ensuring accountability, and identifying areas for improvement.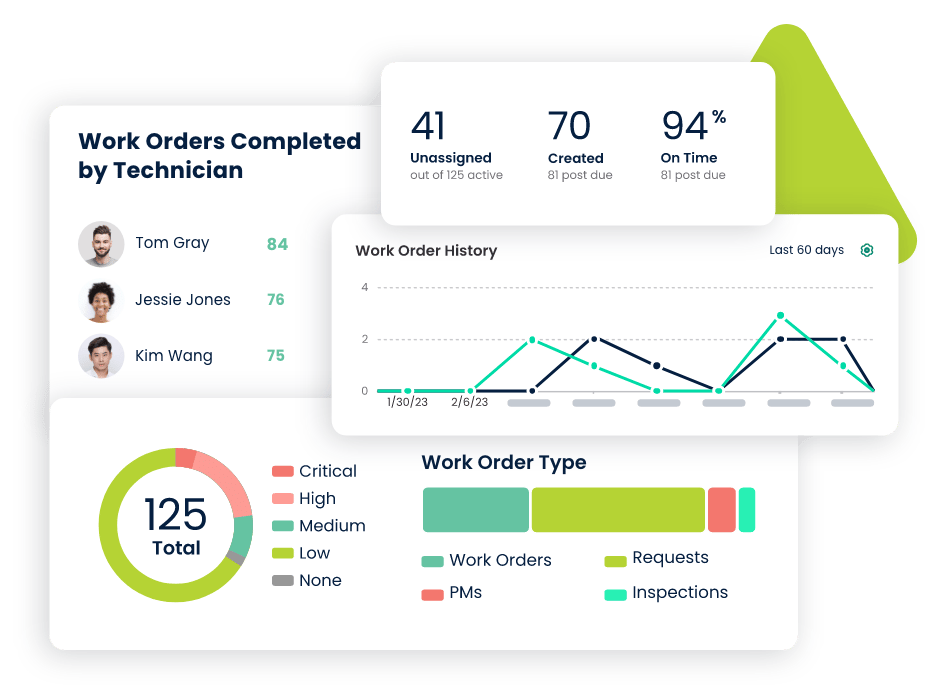 6. Mobile Access
The ability to manage assets and maintenance activities from mobile devices like iPhones and tablets enables maintenance teams to access and manage CMMS functionalities on-the-go. Going mobile has a huge impact on improving efficiency through real-time updates, eliminating paperwork and double data entry, and enhancing collaboration in maintenance operations.
The following are some key characteristics of CMMS mobile access:
6.1 Mobile Applications
Many CMMS vendors offer mobile applications that enable maintenance personnel to access work orders, update task status, and access asset information from their smartphones or tablets. These apps are easy to use, optimized for smaller screens, and provide a consistent experience with the desktop version of the CMMS. Through the mobile application, maintenance technicians can create and update assigned work orders and tasks. Using mobile devices also allows users to easily attach images and view associated documents and files relevant to their assigned work. Most CMMS mobile apps log actual wrench time through timers which results in more accurate labor time and cost reports.
6.2 Barcode / QR Code Scanning
Maintenance technicians can use their mobile devices' built-in cameras to scan barcodes or QR codes. This feature allows techs to quickly identify assets and spare parts and retrieve relevant maintenance information. By scanning barcodes or QR codes, maintenance personnel can access equipment details, maintenance history, manuals, or troubleshooting guides directly from the CMMS.
This streamlines the process of asset identification, simplifies data entry, and reduces the risk of errors or manual data input. Barcode / QR code scanning also facilitates inventory management by enabling efficient stock tracking and replenishment. Maintenance technicians can scan barcodes on spare parts or supplies to update inventory levels, initiate reorders, or track stock consumption, ensuring accurate and up-to-date inventory information.
6.3 Offline Functionality
CMMS mobile apps often include offline functionality, allowing maintenance personnel to continue working even in areas where there is no internet connectivity. The mobile application stores data locally on the device, enabling technicians to access and update information offline.
Offline functionality ensures that maintenance teams can perform critical tasks, log work order details, and capture data even in remote locations or areas with poor network coverage. Once the mobile device reconnects to the network, the data is synched with the CMMS database, ensuring data integrity and seamless integration with the overall maintenance system.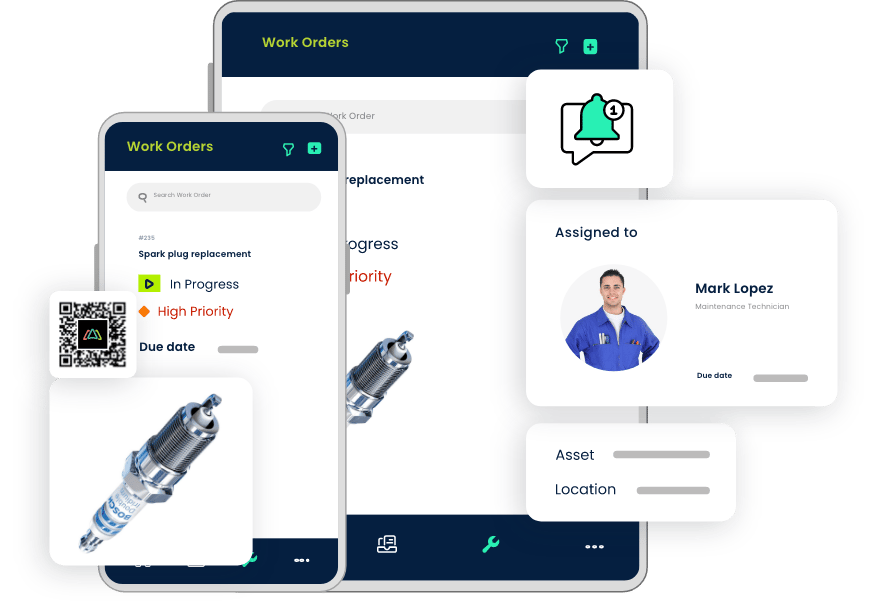 INDUSTRIES THAT UTILIZE CMMS
CMMS systems have proven to be valuable across a wide range of industries. The versatility and benefits of CMMS make it an indispensable solution for organizations that rely on efficient maintenance management. Below are some of the common industries that utilize CMMS software:
Manufacturing
Manufacturing companies often have complex machinery, equipment, and production lines that require regular maintenance and upkeep. A CMMS helps manufacturers streamline maintenance processes, schedule preventive maintenance, track equipment performance, and minimize downtime. It enables proactive maintenance planning, reduces production disruptions, and optimizes asset utilization.
Facilities Management
Facilities management encompasses various sectors such as commercial buildings, hospitals, educational institutions, shopping centers, and more. A CMMS allows facilities managers to efficiently manage and maintain diverse assets, including HVAC and electrical systems, lighting, elevators, and plumbing. It helps track maintenance tasks, streamline work orders, and ensure the smooth operation of critical building systems. Facilities managers often extend the CMMS to help manage additional areas that require maintenance such as groundskeeping, security, fleet and capital projects.
Energy & Utilities
The energy and utilities sector, including power generation plants, water treatment facilities, and oil refineries, rely on CMMS software to maintain their infrastructure and equipment. The CMMS helps manage preventive maintenance for critical assets, ensures compliance with safety regulations, monitors asset performance, and minimizes costly downtime.
Transportation & Fleet Management
Transportation companies, logistics providers, and fleet management operations rely on CMMS software to maintain their vehicles, aircraft, or shipping equipment. A CMMS assists in tracking maintenance schedules, recording repairs and inspections, managing spare parts inventory, and optimizing maintenance resources. It enables these organizations to improve asset performance, increase operational efficiency, and ensure compliance with safety standards.
Healthcare
Hospitals, clinics, and other healthcare facilities require proper maintenance of medical equipment, HVAC systems, and facility infrastructure. A CMMS helps healthcare organizations effectively manage preventive maintenance tasks, schedule inspections, and track compliance with regulatory requirements. It aids in reducing equipment downtime, improving patient care, and ensuring the smooth operation of critical systems required to operate their medical and patient care systems.
Municipalities & Public Works
Local government agencies and public works departments utilize CMMS systems to manage the maintenance of public infrastructure, including roads, bridges, parks, and water systems. The CMMS assists in tracking work orders, scheduling maintenance tasks, tracking preventive maintenance, managing asset data, and optimizing resource allocation. It improves the efficiency of maintenance operations, extends the lifespan of public assets, and enhances the overall quality of public services.
Hospitality & Tourism
Hotels, resorts, and tourism establishments rely on CMMS software to maintain their facilities, including guest rooms, HVAC, electrical and plumbing systems, kitchens, and recreational areas. The CMMS helps schedule preventive maintenance tasks, manage work orders, and track equipment performance. By ensuring the proper functioning of facilities and equipment, the CMMS contributes to providing a positive guest experience and minimizes disruptions.
Food & Beverage Production
The food and beverage industry, including restaurants, food processing plants, and breweries, utilize CMMS software to manage maintenance activities for equipment, production lines, and facilities. The CMMS helps schedule cleaning and sanitation tasks, preventive maintenance, track equipment performance, manage spare parts, and ensure compliance with food safety regulations. It improves production efficiency, reduces unplanned downtime, and maintains high-quality standards.
HOW TO CHOOSE THE RIGHT CMMS
Selecting the right CMMS requires a thorough assessment of organizational maintenance needs, pain points, and objectives. Below are steps to following when assessing the organization's maintenance needs:
STEP 1: Assess Your Organization's Maintenance Needs
1.1 Identify Pain Points and Challenges
Identify the pain points and challenges your organization currently faces in its maintenance operations. These pain points could include recurring breakdowns, excessive downtime, inefficient work order management, lack of visibility into asset performance, or difficulties in managing inventory.
Engage with maintenance personnel, supervisors, and other stakeholders to gather insights into the specific issues they encounter. Conduct interviews, surveys, or workshops to gain a comprehensive understanding of the challenges that exist at various levels of the maintenance process.
1.2 Define Specific Requirements and Objectives
Define specific requirements and objectives for your CMMS implementation. Consider the following aspects:
Functional Requirements: Determine the core functionalities your organization requires in a CMMS. This may include asset management, work order management, preventive maintenance, inventory management, reporting and analytics, mobile accessibility, integration capabilities, budget and available funds, and user interface requirements.
Customization: Determine if the CMMS allows for customization to meet your organization's specific workflows, terminology, or reporting requirements. The ability to customize the software ensures that the CMMS aligns closely with your unique operational needs.
User-Friendliness: Consider the ease of use and user interface of the CMMS. An intuitive and user-friendly system reduces training time, encourages user adoption, and improves overall user experience. Take into account the tech savviness of the end users. Some CMMS solutions offer robust functionality, but if they are overly complicated, users who are not tech savvy may struggle with adoption.
Vendor Support and Training: Assess the level of support and training provided by the CMMS vendor. Ensure that they offer comprehensive onboarding, ongoing technical support, and resources to help your organization maximize the benefits of the CMMS. Look for a provider that offers a combination of on demand digital resources (videos, webinars, e-Learning, knowledge base) as well as live training and support agents.
ROI: Consider the total cost of ownership, including licensing fees, implementation costs, ongoing maintenance, and any additional modules or features that may incur extra charges. Evaluate the return on investment (ROI) the CMMS can deliver in terms of improved efficiency, reduced downtime, and cost savings.
STEP 2: Evaluate CMMS Vendors and Solutions
When selecting a CMMS, it is important to thoroughly evaluate CMMS vendors. This process involves researching available CMMS options, comparing features and pricing, and considering scalability and integration capabilities. The following are steps to follow when evaluating CMMS vendors and their products:
2.1 Research Available Options in the Market
Explore industry-leading CMMS vendors, their offerings, and their reputation within the maintenance management community. Consider factors such as their years of experience, customer base, and industry expertise. Utilize online resources, industry publications, and professional networks to gather information. This research phase helps identify potential vendors that align with the organization's needs.
2.2 Compare Features, Pricing, and Customer Reviews
Evaluate the following aspects:
Features: Compare the features and functionality offered by each CMMS solution and determine which features are essential for your organization's specific requirements.
Pricing: Request pricing information from the CMMS vendors. Compare the pricing models, whether it's based on the number of users, assets, or number of locations. Most CMMS offer subscription plans that have limitations on the available features, volume of work orders or assets and data. Consider the total cost of ownership, including implementation costs, ongoing maintenance fees, and any additional charges for customizations or additional modules.
Customer Reviews and Testimonials: Look for customer reviews and testimonials to gain insights into the experiences of other organizations that have implemented the CMMS solutions you are considering. Assess feedback on ease of use, customer support, implementation process, and overall satisfaction. Online review platforms, industry forums, and user communities can provide valuable feedback. Websites like G2 Crowd, Capterra, Select Hub, Software Advice and Finances Online are great resources to learn more about different CMMS vendors and their products and read customer reviews.
Case Studies and References: Request case studies or references from the CMMS vendors to understand how their solution has been implemented and the results achieved by other organizations in the industry or with similar needs.
2.3 Consider Scalability and Integration Capabilities
Scalability and integration capabilities are important factors to consider when evaluating CMMS vendors and solutions. Assess the following aspects:
Scalability: Determine if the CMMS solution can accommodate your organization's current and future needs. Consider factors such as the number of assets, maintenance teams, and locations that the CMMS can effectively handle. Ensure that the CMMS can scale with your organization's growth without compromising performance or usability.
Integration: Assess the CMMS's ability to integrate with other systems and software that are essential for your organization's maintenance operations. Integration with enterprise resource planning (ERP) systems, equipment sensors, or other maintenance tools can streamline data exchange, enhance decision-making capabilities, and optimize overall maintenance processes. Evaluate the ease and flexibility of CMMS integration and check whether the CMMS vendor provides standard integration options or if they offer custom integration services.
TOP 5 CMMS LEADERS
Maintenance Request Management
Preventive Maintenance Scheduling
Integrates with other business applications
Interactive Floorplans and Mapping
Offers Tech-level License at Lower Cost
G2 Crowd Score (as of 5/24/2023)
Software Advice Score (as of 5/24/2023)
Starts at $45 per user/ month
Starts at $45 per user/ month
Starts at $69 per user / month
$110 per named user / month
Starts at $99 per user / month
Maintenance Request Management
Preventive Maintenance Scheduling
Integrates with other business applications
Interactive Floorplans and Mapping
Offers Tech-level License at Lower Cost
G2 Crowd Score (as of 5/24/2023)
Software Advice Score (as of 5/24/2023)
Starts at $45 per user/ month
Starts at $45 per user/ month
Starts at $69 per user / month
$110 per named user / month
Starts at $99 per user / month
4 BEST PRACTICES FOR SUCCESSFUL CMMS IMPLEMENTATION
Implementing a CMMS requires careful planning, effective training, and strategies to ensure user adoption. The following are best practices for successful CMMS implementation and promoting user adoption:
1. Plan the Implementation Process
Before initiating the implementation process, it's important to develop a comprehensive plan. Consider the following aspects:
1.1 Define Objectives
Clearly define the goals and objectives you aim to achieve through the CMMS implementation. Establish measurable targets to track progress and assess the success of the implementation.
1.2 Create an Implementation Timeline
Develop a realistic timeline that outlines the different stages of implementation, including data migration, system configuration, user training, testing and go-live date. Assign responsibilities and establish deadlines to ensure a smooth transition.
1.3 Allocate Resources
Ensure that you allocate sufficient resources, including personnel, budget, and time, for the implementation process. Consider the need for IT support, data migration assistance, and any additional training or consulting services required.
1.4 Identify Key Stakeholders
Identify and engage the key stakeholders early on and communicate the benefits and importance of the CMMS to gain their support and commitment. These may include maintenance managers, technicians, IT personnel, and executive sponsors. Buy-in from stakeholders and users is important and impacts the adoption and overall success of the implementation.
2. Train and Onboard Users
Successful CMMS implementation relies on effective training and onboarding of users. Consider the following strategies:
2.1 Develop a Training Plan
Develop a training plan that covers all aspects of the CMMS, including its features, functionality, and workflows. Offer a combination of hands-on training, workshops, online resources, and documentation to cater to different learning styles.
2.2 Provide User-Specific Training
Tailor the training sessions to meet the specific needs of different user groups. Provide separate training sessions for administrators, maintenance technicians, and other relevant roles (like requesters) to ensure they understand how to effectively use the CMMS for their role.
2.3 Offer Ongoing Training and Support
Make sure ongoing training and support resources are available even after the initial implementation phase. Conduct refresher training sessions, provide access to training materials, and establish a dedicated support channel to address user questions and concerns.
3. Overcome Resistance and Ensure User Adoption
CMMS software adoption is critical for the success of the implementation. Consider the following strategies to overcome resistance and promote buy-in and high adoption:
3.1 Communicate the Benefits
Emphasize how a CMMS will streamline their workflows, improve efficiency, and enhance their ability to perform their tasks effectively. Highlight the positive impact the CMMS will have on the users' jobs and the organization as a whole.
3.2 Address Concerns and Challenges
Proactively address any concerns or challenges that users may have regarding the CMMS. Offer support and guidance to help users navigate the system and address any technical or usability issues they encounter.
3.3 Lead by Example
Encourage key stakeholders and management to lead by example and actively use the CMMS. Their involvement and support will demonstrate the importance of the system and encourage others to embrace it. Dashboards and reports should be used during team meetings and 1 on 1's, and managers should find ways to incorporate using the CMMS through day to day communication with team members.
3.4 Celebrate successes and milestones
Recognize and celebrate successes and milestones achieved through CMMS adoption. Highlight positive outcomes, such as improved maintenance efficiency, reduced downtime, or cost savings. This reinforces the value of the CMMS and motivates users to continue using it effectively.
4. Establish Data Management Protocols
Consider the following best practices:
4.1 Standardize Data Entry and Naming Conventions
Develop clear guidelines for data entry to ensure consistency and accuracy. Define standardized naming conventions for assets, work orders, inventory items, and other relevant data. This facilitates easy search and retrieval of information within the CMMS and promotes data integrity.
4.2 Ensure Data Accuracy and Consistency
Regularly review and update data to ensure accuracy and consistency. Implement validation checks and data cleansing processes to identify and correct any errors or inconsistencies. Conduct periodic audits to verify the integrity of the data and resolve any discrepancies.
4.3 Data Backup and Security Measures
Implement robust data backup and security measures to protect your CMMS data from loss, unauthorized access, or system failures. Implement user access controls and encryption protocols to safeguard sensitive information.
Additionally, consider establishing data archiving policies to manage historical data and optimize system performance. Determine the retention period for old data based on compliance requirements and storage capacity.
Many web-based CMMS software products have daily backups and offer options for enhanced security like Single Sign On (SSO) and strict password enforcement.
CONTINUOUS IMPROVEMENT AND OPTIMIZATION
To ensure the long-term success and effectiveness of CMMS implementation, it is essential to embrace a culture of continuous improvement and optimization.
Regularly Review and Update Maintenance processes
Maintenance processes should not remain static rather they should be subject to regular evaluation and improvement. Continuously review your maintenance workflows to identify areas that can be streamlined or optimized. This can involve assessing the efficiency of work order creation, task assignment, and technician communication.
Engage maintenance technicians, supervisors, and other relevant stakeholders in the process. Seek their input and insights regarding pain points, bottlenecks, and areas for improvement. This collaborative approach ensures that processes are aligned with the practical needs and challenges faced by your maintenance team.
Implement Feedback Loops for User Input and Suggestions
Establish feedback loops that allow users to provide input, share suggestions, and report any system issues or challenges they encounter. Regularly communicate with users, conduct surveys, and hold feedback sessions to gather insights and ideas for improvement.
Create channels for users to submit feedback and suggestions, whether through a dedicated feedback portal, user advisory groups, or regular meetings with maintenance staff. Actively listen to their input and ideas, and consider implementing changes based on their feedback. By involving users in the optimization process, you foster a sense of ownership and create a culture of continuous improvement.
FINAL THOUGHTS ON THE FUTURE OF CMMS AND ITS POTENTIAL IMPACT
As organizations continue to embrace digital transformation and prioritize maintenance optimization, the future of CMMS looks promising. The evolution of technology and the increasing focus on data-driven decision-making will further enhance the capabilities of CMMS solutions. The potential impact of CMMS on maintenance operations is significant.
CMMS solutions are beginning to integrate with newer technologies such as the Internet of Things (IoT), artificial intelligence (AI), and machine learning (ML). This evolution in technology powers predictive maintenance, advanced analytics, and automated workflows, further enhancing maintenance efficiency and effectiveness.
To fully leverage the potential of a CMMS, maintenance professionals should stay informed about industry trends, explore innovative solutions, and adapt their maintenance strategies to embrace new technologies and best practices. By continuously improving and optimizing their CMMS, organizations are positioning themselves for long-term success.
Are you interested in learning more about how an easy to use CMMS solution can help your organization streamline its maintenance processes and lower costs?