Maintenance Management Software
Isn't it time to ditch the paper & spreadsheets?
BENEFITS OF MAINTENANCE MANAGEMENT SOFTWARE
Asset Life
EXTEND equipment lifespan, and improve availability.
Downtime
REDUCE downtime, cut waste, and let production flow.
Compliance
ADHERE to local regulations, and create a safe workplace.
Costs
LOWER expenses with parts management and inventory control.
Productivity
IMPROVE people management, be organized, and get more done.
Performance
DRIVE gains with critical insights from tracking maintenance KPIs.
DRIVE SPEED TO VALUE

WITH CLICK MAINT

Our goal is to deliver value from Day 1.
See how we do it.
SOFTWARE COMPLETE WITH FEATURES TO ACCELERATE MAINTENANCE TEAMS
Functionality designed to optimize maintenance operations.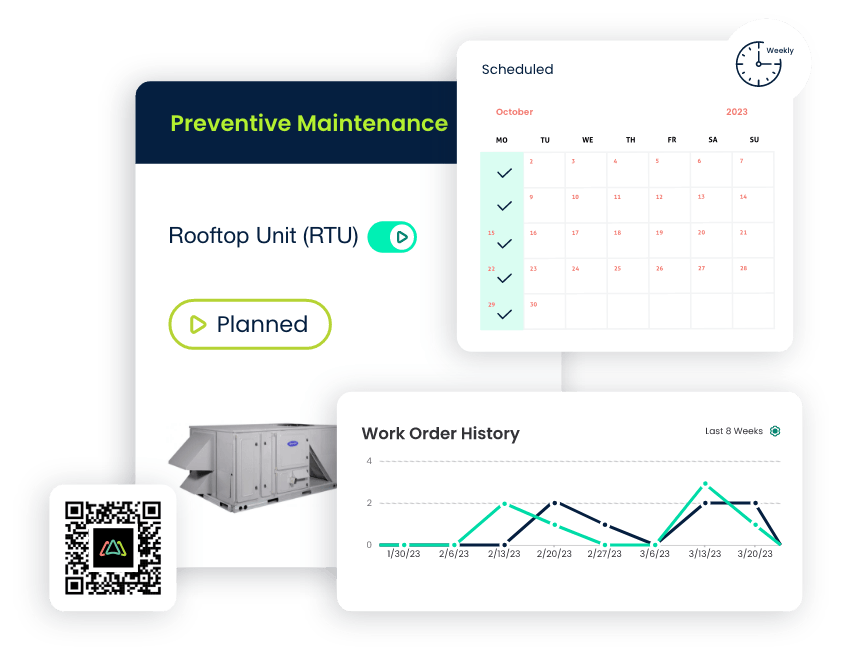 Preventive Maintenance
-
Maximize Uptime, Minimize Disruptions
Schedule maintenance tasks, proactively.
Choose the type of preventive maintenance most suitable for your assets.
Send timely alerts to technicians and managers.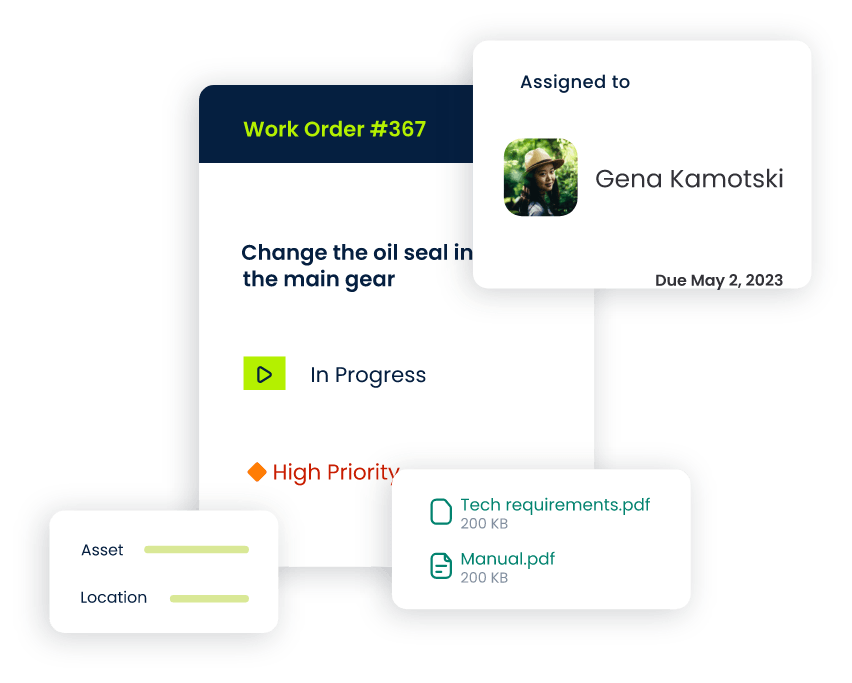 Work Order Management
-
Maximize Response Time, Minimize Complexity
Assign tasks and track progress in real-time.
Streamline work order scheduling in a single platform.
Allocate resources efficiently and reduce downtime.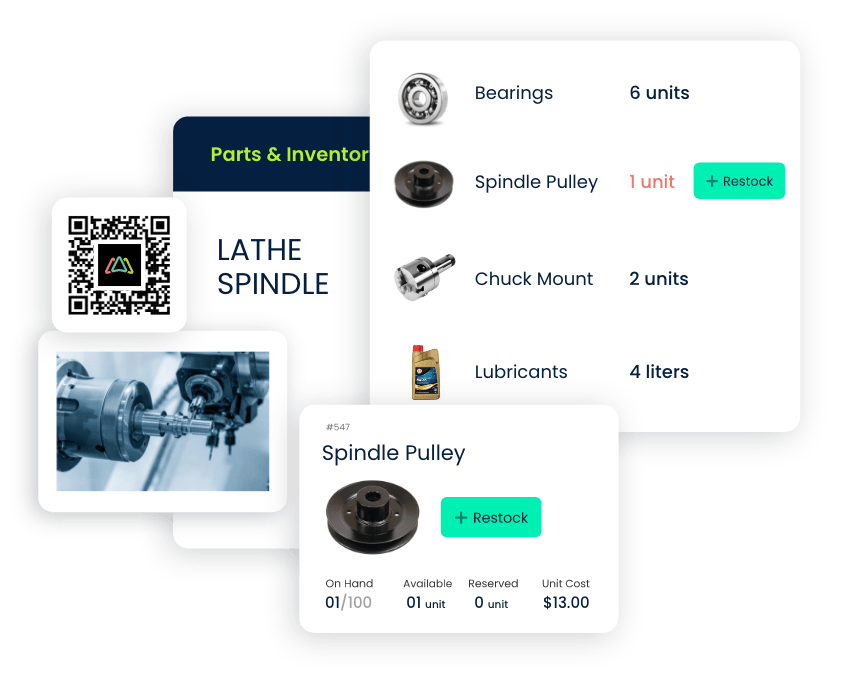 Inventory Management
-
Maximize Stock Optimization, Minimize Inventory Costs
Automate inventory tracking and restocking
Improve inventory utilization and prevent stockouts and overstocking
Set up automated reorder workflows and alerts for all stakeholders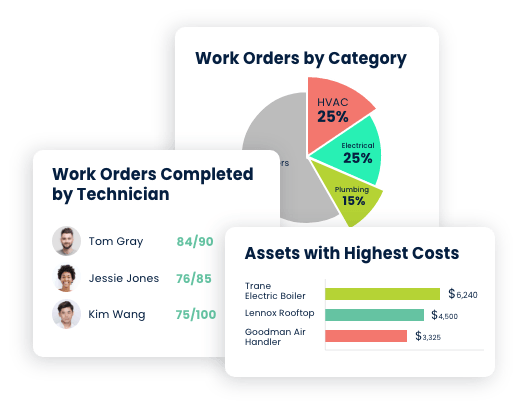 Maintenance Reporting
-
Maximize Operational Efficiency, Minimize Data Overload
Monitor equipment health of all your systems.
Get accurate, real-time reports on asset performance and maintenance activities.
Reduce downtime with data-driven decision-making.
Workflow Automation
Automatically assign tasks, send notifications, and trigger actions based on predefined rules, reducing manual effort and improving efficiency. Streamline maintenance activities and ensure timely completion.
Calendar View
Plan and schedule maintenance, inspections, and work orders with ease. Identify resource availability, overlapping schedules, and plan maintenance activities efficiently. Gain a holistic view of your schedule and avoid conflicts.
Complete Asset Registry
Maintain a centralized view of all your equipment and facilities. Capture detailed asset information, including specifications, maintenance history, warranties, and documentation. Easily search and track assets, ensuring effective maintenance planning and optimizing asset lifecycle.
Inventory & Work Order Tracking
Automate tracking of your maintenance activities, work orders, asset history, and maintenance schedules in one central location. Use it to quickly identify trends, anticipate potential issues, and analyze historical data to optimize resource allocation and improve overall maintenance efficiency.
Mobile App
Empower technicians to view and update work orders, perform inspections, access equipment information, and communicate with the team from their mobile devices. Enhance productivity and responsiveness with real-time access to critical maintenance data in the field.
Task Checklists
Create standardized checklists for routine maintenance tasks, inspections, or repairs. Technicians can follow step-by-step instructions, ensuring consistency and accuracy in their work. Track completion status and easily identify pending or overdue tasks.
SIMPLE MAINTENANCE MANAGEMENT FOR EVERYONE
Leading buyer profiles across industries and champion personas (both buyers and users) know how to deliver with maintenance software.
Manufacturing
Maintenance software helps manufacturers optimize equipment uptime, reduce maintenance costs, and ensure compliance with safety regulations.
Healthcare
Healthcare facilities maintain critical medical equipment, ensuring patient safety and regulatory compliance while also reducing downtime and repair costs.
Transportation
Facilities managers maintain critical building systems, reducing downtime, and minimizing repair costs, while also ensuring compliance with safety regulations and extending the lifespan of assets.
Energy & Utilities
Energy companies manage their complex infrastructure and equipment, ensuring high levels of uptime, safety, and regulatory compliance.
Higher Education
Colleges and universities maintain their campus buildings and equipment, ensuring student safety, reducing downtime, and minimizing repair costs.
Hotels & Resorts
Maintenance software helps hotels and resorts maintain their properties, ensuring guest satisfaction and minimizing disruptions to operations.
Arenas & Stadiums
Maintenance software helps stadiums and arenas maintain their facilities and equipment, ensuring a positive guest experience, reducing downtime, and minimizing repair costs.
Retail & Restaurants
Maintenance software helps retailers and restaurant owners maintain their buildings and equipment, ensuring customer satisfaction, reducing downtime, and minimizing repair costs.
Religious Institutions & Non-Profits
Religious institutions and non- profit organizations maintain their facilities and equipment, ensuring a safe and welcoming environment, and minimizing repair costs.
PERSONAS THAT THRIVE ON
MAINTENANCE MANAGEMENT SOFTWARE
Maintenance Supervisors
Maintenance supervisors streamline the maintenance process, schedule preventive maintenance activities, track maintenance history, and assign work orders. It also provides real-time insights into the maintenance performance and helps in resource allocation and planning.
Maintenance Technicians
Maintenance software helps technicians to view and manage work orders, update maintenance records, and track inventory and spare parts. It also provides access to equipment manuals, schematics, and other technical documents.
Asset Managers
Maintenance software helps asset managers to monitor the condition of assets, track the maintenance history, and plan for capital expenditures. It also provides insights into asset utilization, downtime, and performance, which helps in making informed decisions about asset replacement and maintenance.
Procurement Managers
Maintenance software helps procurement managers to track inventory and spare parts, manage vendors and contracts, and plan for procurement activities. It also provides real-time insights into inventory levels, which helps in making informed decisions about inventory management and procurement.
ARE YOU READY TO DISCUSS YOUR MAINTENANCE MANAGEMENT REQUIREMENTS?
MAINTENANCE MANAGEMENT SOFTWARE
Everything you need to know
What is Maintenance Software?
It is a type of computer program that helps organizations manage their maintenance operations more efficiently. The software can be used to track assets, schedule and assign maintenance tasks, monitor equipment and inventory, and generate reports.
It typically includes a range of features such as work order management, preventive maintenance scheduling, asset tracking, inventory management, and reporting. Some software may also offer advanced features such as predictive maintenance and mobile access.
The benefits of using maintenance software include improved equipment uptime, increased efficiency and productivity, better asset utilization, reduced maintenance costs, and improved compliance with regulations and safety standards. It is commonly used in industries such as manufacturing, healthcare, transportation, and facilities management.
Various Types of Maintenance Software
There are several types of maintenance software available in the market, each designed to meet the specific needs of different industries and organizations. Some of the common types of maintenance management software are:
Computerized Maintenance Management System (CMMS)
This is a software that is designed to manage and schedule maintenance tasks for equipment, facilities, and assets. CMMS software typically includes features such as work order management, asset tracking, inventory management, preventive maintenance scheduling, and reporting.
Enterprise Asset Management (EAM)
This is a more comprehensive software that not only manages maintenance tasks but also helps organizations optimize their asset lifecycle, from acquisition to disposal. EAM software typically includes features such as asset tracking, work order management, inventory management, preventive maintenance scheduling, procurement, and reporting.
Facility Management Software (FMS)
This software is designed to manage and maintain facilities, such as buildings and grounds. FMS software typically includes features such as space management, lease management, maintenance management, asset tracking, and reporting.
Field Service Management (FSM)
This software is designed for organizations that provide maintenance and repair services on- site, such as HVAC and plumbing services. FSM software typically includes features such as scheduling, dispatching, work order management, mobile access, and reporting.
Predictive Maintenance (PdM)
This software uses data analytics and machine learning to predict when equipment is likely to fail, allowing organizations to perform maintenance before a breakdown occurs. PdM software typically includes features such as data analysis, predictive modeling, and reporting.
Challenges with Maintenance Software
While maintenance management software can bring many benefits to organizations, there are also several challenges that need to be considered. Some of the common challenges include:
Data accuracy and integrity
Maintenance software relies heavily on accurate and up-to-date data to function properly. If the data entered into the system is inaccurate or incomplete, it can lead to incorrect decisions being made or maintenance tasks being missed.
User adoption and training
Maintenance management software can be complex and require a significant investment of time and resources to implement. Ensuring that users are properly trained and adopt the software can be a challenge, and lack of adoption can undermine the effectiveness of the system.
Integration with existing systems
Many organizations already have multiple systems in place, such as ERP or asset management systems. Integrating the maintenance management software with these systems can be a challenge and require significant IT resources.
Customization and configuration
Every organization has unique maintenance management needs and workflows. Customizing and configuring the software to meet these needs can be time-consuming and require technical expertise.
Cost
In a big-ticket enterprise implementation context, maintenance software can be expensive to purchase, implement, and maintain. Organizations need to carefully evaluate the costs and benefits of implementing the software before making a decision. Cloud based software like Click Maint maintenance management software have solved this challenge to a large extent.
Security and privacy
Maintenance software often contains sensitive data about equipment, assets, and personnel. Ensuring that the software is secure and complies with privacy regulations can be a challenge, particularly for cloud-based solutions.
COMING SOON

MAINTENANCE MANAGEMENT SOFTWARE

Features Include
Maintenance request management
Work order management
Preventive maintenance
Labor and vendor management
Reports & analytics, KPI dashboards
Equipment downtime tracking
Inventory & parts management
Affordable pricing that scales with business requirements
Easy to use Mobile App included